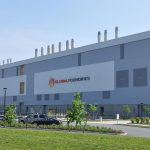 Its shares begin trading today under the symbol GFS.
GloFo and main shareholder Mubadala sold 55 million shares for $47 each – which was at the top of the offered range.
Mubadala will control more than 89% of the company's shares after the IPO.
GloFo had an H1 loss of $301 million on revenue of about $3 billion, compared with a loss of $534 million on $2.7 billion in revenue a year earlier.