The final step for MEMS would be to evolve from simple deterministic data-collection sensors to more empathic data-interpretation machines.
Devices could discern and predict user moods, feelings and emotions, responding and reacting to needs and intentions –  like empathetic humans.
The MEMS market was worth almost $12.1 billion in 2020, up more than 2% from the year earlier. After a weak 2019 and 2020, Yole's analysts expect the market to grow by 11% in 2021, reaching $13.4 billion. After that, high-single digit growth will increase annual MEMS revenue to $18.2 billion by 2026 – a ~7% CAGR 20-26.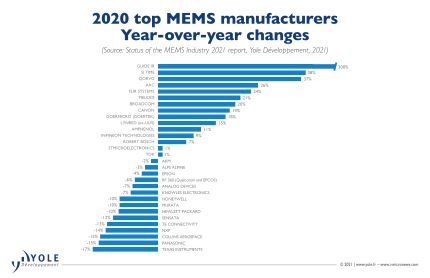 Traditional MEMS devices in big markets will keep growing but at a slow rate. The devices to watch are microphones, inertial and optical MEMS. 
MEMS revenues are mainly driven by the consumer market which takes about 60% of the global MEMS revenue. 
Technology trends: MEMS sensors & actuators were always concerned by size reduction, cost reduction and performance increase. The trend is now to move to a more system like level approach, where heterogeneous integration is key.
The aim is to increase the system level performance, while increasing accuracy and reducing cost. 
The top MEMS players  are now Bosch, Broadcom, Qorvo, STMicroelectronics, Texas Instruments, Goermicro (Goertek), HP, Knowles, TDK and Infineon.
 A looming problem for MEMS players that have a pressure sensors business in automotive, is the decline in ICE vehicles.
MEMS sensor makers are trying to get out of the commoditisation cycle and move up the value chain. There is clearly a path being formed towards applications combining MEMS sensors with AI//ML/DL on the edge (or the cloud). 
Consumer applications are 62% of the total market, and the automotive industry is 16% of the total market.
MEMS growth could be delivered by new emerging technologies and opportunities, with a few notable ones such as Microphones and inertial MEMS in wearables and particularly TWS earbuds. This is driven by the need for better sound capture using microphones and VAD, noise reduction with accelerometers for voice detection and bone conduction. 
3D Audio is being pushed forward by Apple and will probably jump to Android devices, causing a surge in demand for IMUs. 
Gas sensors and environmental combos, integrated in wearables or in automotive in-cabin air monitoring. These help monitor indoor and outdoor air quality around users, as they become more concerned about the air they breathe.
Optical MEMS for LiDAR and AR/VR. Revenue in this sector might still be weak in five years' time. However, opportunities lie beyond this horizon, as the ADAS/AV and AR/VR markets further develop. 
PMUT devices, which are used in ultrasonic fingerprinting. PMUTs are also used as a replacement for physical buttons and haptics in smartphones and cars. 
CMUT devices are also very promising for the consumerization of low-cost ultrasound imaging, close to the PoC. 
MEMS microspeakers, which should show their advantages in TWS in-ear designs first, replacing older electrodynamic or balanced armature speakers. 
MEMS-based sensor-shift OIS. This which could replace the flexible PCB -based sensor shift used for the first time in the iPhone 12 Pro's camera module. It may also enter other camera modules in other handsets or consumer devices. 
Some players profited from the pandemic and some didn't, leading to significant changes in our global MEMS ranking. Bosch, Broadcom, Qorvo, STMicroelectronics, Texas Instruments, Goermicro (Goertek), HP, Knowles, TDK and Infineon now comprise the top-10 with at least $6.5 billion combined revenues, more than half of the total market. 
However, the companies that increased their revenue were not necessarily the ones holding the biggest market shares. • Companies related to COVID-19 prevention technologies, such as thermal imaging and sensing or pressure sensors, grew strongly last year. 
For example, Guide IR, FLIR Systems, Lynred, which sells microbolometers, and Melexis, which sells thermopiles, profited due to the increase demand for elevated body temperature measurement application while Amphenol saw its pressure MEMS grow due to demand for respiratory end-systems like ventilators and CPAP machines. 
Broadcom and Qorvo grew strongly last year, providing highly reliable RF MEMS filters for 5G deployment, which was stronger than expected.
 SiTime is continuing to push strongly for replacement of traditional quartz timing solutions with its MEMS-based timing products. 
 AAC and Goermicro (Goertek) profited from a fruitful MEMS microphone demand environment. For the first time in 15 years, the MEMS microphone leader Knowles has been replaced by Goermicro.
Companies with business both in consumer and automotive like Bosch, STMicroelectronics and TDK, were able to offset potential negative effects from automotive due to the impressive consumer MEMS business and the pick-up in demand during H2 2020. 
Infineon has entered the top 10.
piezoMEMS are devices that have potential for growth as optical MEMS (micromirrors) for AR/VR and LIDAR applications ramp up. Besides that, piezoMEMS are used in RF MEMS, inkjet heads, PMUTs and increasingly used to build more robust inertial sensors and microphones. Foundries have been continuously adding AlN and PZT capabilities.
There is a growing movement toward a mix of competencies across the supply chain, from front-end manufacturing to packaging, the modules and the integration of systems. 
The move to a system level approach and the integration of different components like MEMS, ASICs , antennas and power sources that use different materials and processes in the same housing, is creating needs for more sophisticated SiP technologies, with the goal to increase system level performance and decrease overall power consumption.