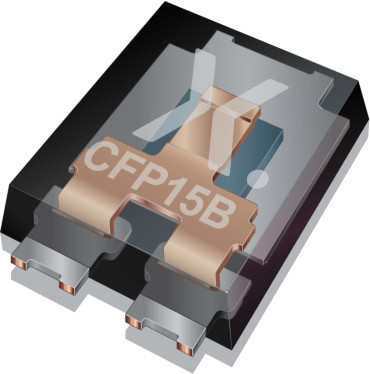 Nexperia's CFP15B clip-bond surface-mount power package has passed automotive board-level reliability (BLR) testing by a "leading", said the company, tier-1 supplier. Initially, it will be used in an engine control unit.
"BLR verification is an important milestone," said Nexperia product manager Guido Söhrn. "CFP15B represents the latest generation of thermally-enhanced thin surface-mount devices. Its versatility and reliability make it the perfect choice for automotive components such as engine control units, transmission control units and other safety applications such as braking."
BLR testing evaluates robustness and reliability.
According to Nexperia, it indicated that the package exceeded twice the level of reliability performance that would be expected in accordance with AEC-Q101. It was qualified at 2,600 cycles of combining temperature and intermittent operating life tests.
"Accreditation is particularly important as the industry shifts towards more electric and connected vehicles, increasing the complexity of onboard electronic systems," it said.
To block moisture ingress, CFP15B is designed not to delaminate around the leads, die or clip – the solid copper clip (top image) that improves heat transfer into the PCB.
"The device is up to 60% smaller than DPAK and SMx packages, with no compromise on thermal behaviour," claimed Nexperia.
Schottky and other rectifiers are available in the package – in single and dual form between 4 and 20A – and silicon-germanium power diodes or bipolar transistors could be, it added.
The CFP15B package information page is here