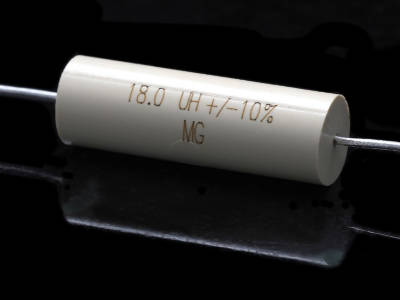 Called 28MG, there are 60 devices spanning 1.2 to 18µH with resistances between 79mΩ and 4.15Ω, and carrying capacity of 315mA to 2.4A. They are all the same size, with bodies 23mm long and 7mm in diameter.
"All of Gowanda's non-magnetic surface mount and thru-hole inductors, including this new 28MG series, provide relative permeability of ≤1.00003," according to the company.
Operation is over -55 to +125°C, and the epoxy encapsulated parts will withstand all types of reflow soldering.
Standard terminations are SnPb, and RoHS-compliant terminations are provided by specifying 'LF' version.
Away from medical use, the company sees them making their way in to equipment for telecommunications, security, instrumentation, test, laboratory analysis, aviation and navigation.
The 28MG data sheet is here, and this link should get you to a pre-set product selector
If you are at BioMEDevice on Boston (21-22 Sep), find Gowanda at booth 1,054, or at MD&M Midwest in Minneapolis in November.
The company is based in Gowanda New York, making inductive electronic components for RF, microwave and power in industrial automation, control equipment, communication, instrumentation and medical applications.