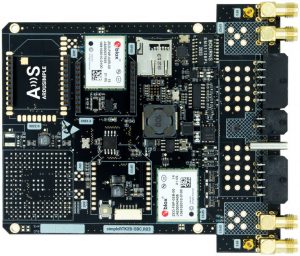 The board fits inside 100 x 120mm and is called SimpleRTK2B-SBC.
"SimpleRTK2B-SBC uniquely delivers easy mechanical integration with centimetre position on three axes – heading, pitch and roll – outputting on NMEA, RTCM, RS232, and CANBus interfaces, via Ethernet, Bluetooth, Wi-Fi, 2G/3G/4G communication, and offers configurable I/O, and an inertial measurement unit," said ArduSimple satellite navigation consultant Marc Castillo.
It was developed with Swiss GNSS (global navigation satellite systems) module maker u-blox, and includes three u-blox' ZED-F9P high precision GNSS receivers which implement RTK (real-time kinematic) GNSS accuracy enhancement.
"With the release of ZED-F9P, u-blox revolutionised high precision positioning by slashing cost of ownership," said Castillo, naming precision farming and autonomous robots as key applications. "Still, the technology's adoption continues to be held back by its increased complexity compared to standard-precision positioning."
The new board is ArduSimple's way is "making RTK technology as close to plug-and-play as possible", it said. "In addition to working as a stand-alone solution, customers can program their own applications with the company's microPython API."
As well as through microPython, the board can be used though ArduSimple code running on a PC, or by embedding C/C++ on the STM32F7 microcontroller to create a custom product around RTK positioning.
Connections are through SMAs for RF, then USB-C and Micro-Fit for communication and I/O signals (right). IO includes the ability to drive small dc motors and stepper motors.
Three enclosures are available:
Indoor plastic IP52 rated
Indoor/outdoor plastic IP67 rated
Indoor/outdoor aluminium IP68 rated
Accessories include impact protection and wall brackets