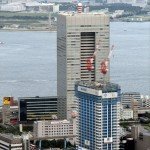 Two Toshiba directors have resigned following receipt by the board of a letter from activist shareholder 3D Investments of Singapore.
3D Investments, which is trying to promote a private equity takeover of Toshiba, wrote an open letter to Toshiba urging the chairman and three directors to resign. 3D has a 7.2% stake in Toshiba.
The letter follows a report paid for by shareholders, published last week, which said that Toshiba had asked Japan's Ministry of Economics Trade and Industry (METI) to find an applicable regulation under the revised Foreign Exchange and Foreign Trade Act to stymie a proposal at Toshiba's AGM from Effissimo Capital Management, which has a 9.9% stake in Toshiba.
The report refers to the involvement in the affair of Japanese Prime Minister Yoshihide Suga in his previous role as chief cabinet secretary.
Last week Japan's trade minister Hiroshi Kajiyama said "it is not clear" on what the report's conclusions are based.
Japan's current chief cabinet secretary Katsunobu Kato said last week: "We will be watching Toshiba's response closely, and we understand that METI will take necessary measures based on the response."
3D's letter to Toshiba says: "It is troubling that you have been silent about the investigative report and have failed to accept responsibility for the misconduct that occurred under your oversight as chair of the board."
In an earlier letter, in April, to Toshiba's board, 3D Investments proposed a review of Toshiba by an independent financial adviser which should "be structured in a manner to invite and encourage participation by private equity firms and strategic acquirers alike by informing such parties that their interest is welcome and Toshiba is willing to objectively consider all forms of ownership."
Brookfield, CVC and KKR are private equity companies which have expressed an interest.
An attraction for acquirers is the $15 billion locked up in Toshiba's 40% stake in Kioxia
3D's web-site carries the tag: 'Harnessing the highest standard of integrity' which recalls Emerson's quip about honour and spoons.