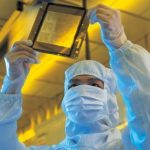 TSMC is looking at building a fab in Germany.
"We are currently doing reviews on Germany seriously, but it's still in very early stages," TSMC chairman Mark Liu told shareholders earlier today, "we continue to communicate with our major clients in Germany to see whether this is most important and effective for our clients."
Liu added that "it's too early to say" whether or not it will happen.
TSMC is planning a 28nm 40k wpm fab in Japan to Supply Sony with image sensotprs and is building the first of what is said to be five fabs in Arizona.
The expansion depends on getting investment and guaranteed up-front demand from customers and support from governments.
"Clients are the backing of our global expansion," said Liu, "we will move very cautiously."